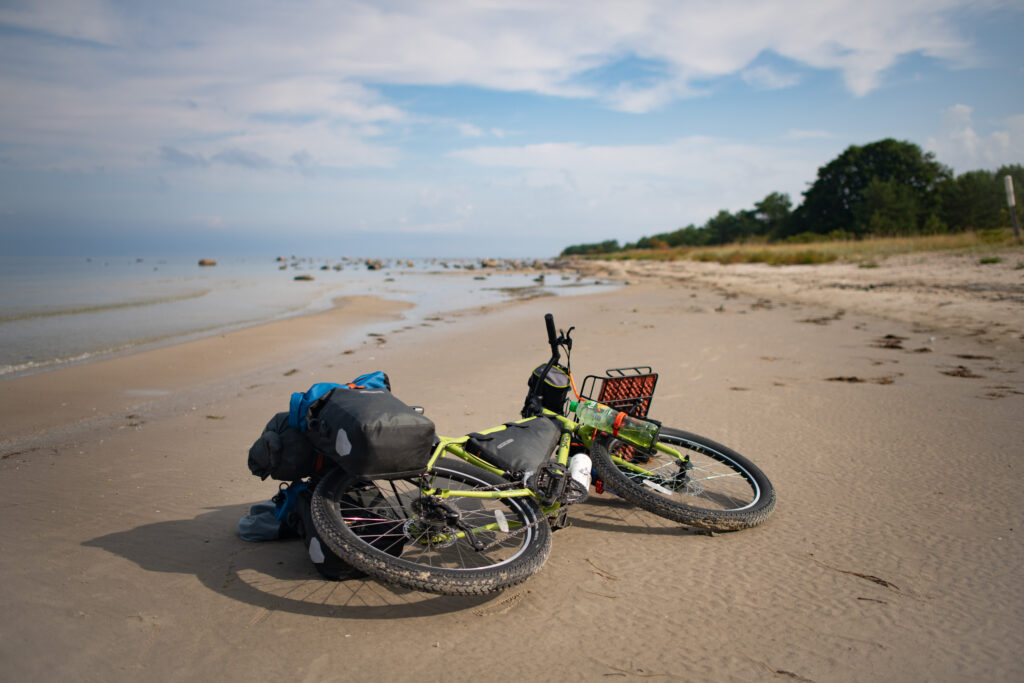 The Surly Troll is hardly a new bike, and there has probably been more than enough written about it earlier, but this is my take on it after close to 7,000 touring kilometres. 
My Troll is a 2018 model that I bought in late July 2019 as a replacement for another bike that I had started a long tour on, but that had not worked as well as I planned. Because it was a replacement I need quickly, it was a bit of an impulse purchase, but I have wanted to get a Troll for a long time, so it was hardly a surprising purchase.
During my time with the Troll so far, I have covered every sort of terrain that you are likely to encounter, except possibly snow (that will come later). I have done road touring, gravel roads, technical single track, sandy beaches and mountain tracks. There has even been a fair bit of hike-a-bike and some carry-a-bike when the terrain was either too rough, or my fitness was just a bit lacking.
I have been experimenting a fair bit with different packing and/or bikepacking setups during this tour, trying to get as much experience as possible and find the setups that suit me best, and I'll try to comment on what I think works.
But first, the bike:
The Surly Troll is a rigid mountain bike with a non-suspension-corrected front fork that is very solidly built and had mounting points for more or less anything. When unloaded, it rides like a rigid mountain bike and can be quite fun to play around on. The only downside is that it is slightly heavy, especially when compared to a bike that was designed for lighter weight rather than as a touring bike capable of being loaded with just about anything. The Troll is intended to be ridden with a load and actually becomes more comfortable the more it is loaded. The frame is very solid and I can not really see that there will ever be any problem with durability, no matter how it is treated. Add the fact that it is a steel frame, that can be repaired much more easily than an aluminium or carbon frame while out on a tour and you start to understand what this bike is all about.
It is a reliable, do it all, bug-out capable bike that is ready to take on the world.
It is designed to be able to use the most common MTB components, with a standard quick-release both front and rear, so that it would be possible to find spares anywhere in the world. In fact, the rear triangle is Gnot-Boost, and can take 135mm QR, 142mm through axel or 148mm boost through axel. It even has provisions for a Rohloff hub and single speed chain tensioning as well as mounting points for Surly trailers.
To add to the flexibility, the frame and fork retain the v-brake mounts, even though the bike is supplied with disk brakes. It is obvious that the bike has been designed to be as flexible and repairable as possible while out on a long tour, even in remote parts of the world.
The wheelset is another area where it becomes obvious that the Troll is intended to be the ultimate, serviceable, bug-out machine.
They are still 26" inch, despite 27.5" and 29" become more and more common. But the fact is, that 26" is still the easiest tire size to find, especially in third-world countries, and combined with the possibility of using v-brakes if absolutely necessary, it should be possible to make repairs and/or replacements almost anywhere you can find a bike shop. Even the hubs are Shimano Deore with cup and cone serviceable bearings. They need to be serviced properly every now and then, but if that is done, then they should last an incredibly long time.
But the wheels are one area where I have a complaint. Surly ships the bike with Surly ET 2.5 tires that come mounted on 21mm internal width rims. But Surly themselves specify a 25-30mm internal width rim for that tire. So Surly ship their own bike, with their own tire, in a configuration they don't themselves recommend! Seems a bit stupid to say the least. The rim should basically just be wider, at least 25mm internal. In fact, I would like an even wider rim 30-35mm, as I would like to run a 2.8" inch tire. There is room for up to 3.0" in both frame and fork and I think the extra volume and circumference would make the bike even better.
This is one of the only places I would like to make a change to the bike, I would like to try either 27.5" wheels with Schwalbe Mondial 2.0" tires or wider 26" rims with 2.8" tires. I wish that the Schwalbe  G-One was available in 26 x 2.8…
Gearing is Shimano Deore 3 x 10 and continues the theme of being reliable and easy to service and find parts for even in remote parts of the world. The 3 x 10 provides plenty of range, even though I would have preferred a slightly lower lowest gear, especially when touring with a load. As it is, I nearly never use the large chainring and could see myself changing to a 2 x 10 set-up in the future.
The shifters are Microshift and can be switched between friction and click-shift, again making the bike as flexible as possible. That said, I would much prefer some Shimano trigger-shift levers, they just feel a lot better and I have never had any reliability problems with them. They also mount underneath the bar, rather than on the top like the Microshifts, giving you some extra room for another hand position.
The Moloko handlebars are something that I have not yet decided if I like or not. I started out really liking them and thinking that they were a great idea, but as I have covered more and more kilometres, I find that I am just not using them in a way that is substantially different to any other handlebar. I like the back sweep and would not go for a straight bar, but I find that I nearly never use the forward hand position, general just moving my hand in and out along the more standard portion of the handlebars. That is also why I would like to change shifters, trigger-shifters would allow me to move my hands further in on the handlebars. Given the extra weight of the Moloko bars, I might just be as well served by a more standard swept-back bar.
Unfortunately, my bike was delivered with a very cut down fork tube, and as I like a very comfortable position when touring, I have had to change stems to a higher angled one. This is not a fault of the bike, but rather the shop that sold it to me, the fork steerer should not have been cut so low, if I hadn't been in such a hurry when I bought the bike, I would have demanded another fork, to be cut to the size I wanted.
Another change I have made is to get a seat post with a larger setback than the standard one. This is because I could not get my Brooks saddle far enough back and is really a fault of the Brooks saddle rather than the standard seat post, the seat rails of the Brooks just don't allow the seat to be pushed far enough back. That said, my Brooks Cambium C17 is the most comfortable seat I have ever used.
As I wrote earlier, I have tried a number of different methods of loading the bike and have come to some conclusions.
The Troll is designed as a pretty standard touring bike, with an off-road intent, and works very well with a standard pannier set-up. Either 2 rear, 2 front or all 4. I did try a basket packing set up on the bike but came to the conclusion that it affected the handling of the bike too much. That might have been because I had too much weight in the basket, but the bike never really felt confidence-inspiring with that set-up. Especially compared to using 2 panniers on lowriders. Set up like this, the bike feels solid and well balanced, even allowing me to ride without hands (if I'm careful!).  I have tried both rear panniers and a large saddlebag, and both work really well on the bike, it is just a matter of deciding how much you need to carry. 
My 2 preferred set-ups at the moment would be like this:
1- Rear rack with either panniers or dry bags strapped to it, depending on how much I need to carry. A frame bag ( I'm using a Porcelain Rocket 52Hz) and 2 small panniers on lowrider racks at the front. Combined with stem bags as needed and a water bottle cage underneath the down-tube. This would be my bug-out, world tour set-up. It would allow me to carry as much as I would ever need (probably too much), and is extremely flexible.
2- Lightweight handlebar roll, 2 Salsa Anything HD cages on the fork, frame bag and large saddle pack. This would be my bikepacking set up which would get the bike as light as possible, but, naturally, limit what and how much I could carry.
At the moment I am touring with a combination of the two. Front panniers, frame bag and a large saddle pack and, although the saddle pack works really well (an Ortlieb), I think that using a rear rack and dry bag would prove more flexible and allow me to carry more load when needed as it is very easy to strap water bottles, food bags or just about anything to the rack. 
All in all, possibly apart from the rim width, the Troll does exactly what it is meant to do. You have to realise that it is not a race bike, but rather a supremely reliable, repairable touring machine that has the capability for some serious off-roading. If you are not in a hurry, it will get you there, wherever there might be.
A note about sizing. I am 6 foot with a 32" inseam and bought a large frame. On reflection, I think that I would have been better off with an XL frame. The sloping top-tube would still give me plenty of stand-over space and the larger frame would allow me to find a slightly more comfortable riding position as I felt slightly cramped in the standard set-up on the large frame. 
The Troll is an extremely capable bike, with endless mounting and fitting options and as such is possibly the ultimate, end of the world touring machine. As long as you can accept the limitations that come with that, primarily the weight, and don't expect to go racing, then I can honestly highly recommend it. The only thing I feel needs changing is the rim width, it should at least match the tires the bike comes mounted with.
Update:
I have now sold the Troll and updated it to a 2021 Surly Krampus. The larger, wider rims on the Krampus address the one criticism I had of the Troll and I am really pleased so far. A review of the Krampus will be published as soon as I have enough kilometres under my belt to be comfortable giving an honest opinion.